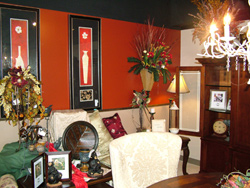 Columbus Florist, Griffin's Floral Design, is Columbus Ohio's leading online floral gift delivery company specializing in the delivery of artistic and unique floral bouquets and other products all over Columbus, Westerville, Pataskala, Newark, and Central Ohio, as well the USA, Canada and the rest of the world. Griffin's Floral Design delivers a large range of other gifts such as Brownies, Lobsters, Chocolates, Cakes, Balloons, plush teddy bears and stuffed animals, blooming plants, dish gardens, gourmet baskets, fruit baskets, and hundreds of varieties of flowers. We are proud to call ourselves Central Ohio's "Yes We Can" Columbus Flower shop.
Griffin's Floral Design, once called, "Flowers By Rick, was opened 1985 by its previous owners, Richard & Janice Claprood. In 1999-2000 Russ & Sarah Griffin became the new owners of the company after having been employed by the Claprood family for Ten plus years. The Claprood's serviced the Central Ohio regions with many unique services customized to its diverse range of cliental. Mr. Claprood was one of the originators of the Grocery Store Flower Shop concept in Columbus Oh area. This began with former chains such as The Big Bear Grocery Store and Cardinal Food Gallery. This unique concept quickly led to Get Well Flowers through an Out-Reach program in many of the area hospitals. Mount Carmel East Hospital, Riverside Hospital, and St. Ann's Hospital, Grant Medical Center, Children's Hospital, and Mount Carmel West Hospital, all started Columbus florist flower programs out of their gift shops with the Pataskala Flower shop now known as Griffin's Floral Design leading the way. Today, some of these traditions continue with new owners Russ & Sarah Griffin continuing through the tradition of exceptional customer service with an emphasis on a quality product at the best value that would lead Griffin's Floral Design to success in the future.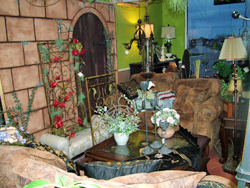 Russ and Sarah Griffin are proud to run a Christ centered business and are big believers in education and industry knowledge. Russ Griffin offers twenty years of floral experience with multiple degrees; Associates of Applied Sciences in Law Enforcement from Columbus State Community College and a Bachelors of Science in Public Safety Management Franklin University of Columbus, as well as advanced floral design training from industry leader Phil Rulloda in Anaheim Ca. Sarah Griffin offers ten plus years of floral, book-keeping, and accounting experience with a Bachelors of Science in Business Administration from the Fischer College of Business at the Ohio State University, Columbus Ohio and Newark Ohio.
Throughout its operation, Griffin's Floral Design has always and continues to invest in the most advanced technology available to our industry. Griffin's Floral Design technological capabilities create the necessary efficiency within the organization to provide our clients with the level of professional service they deserve and we demand in an increasingly technological marketplace. Griffin's is proud to offer the most advanced web-site floral technology in the Columbus Flowers market.
We believe in exceeding customer expectations. We unit with the most powerful flower shops across the US and custom select flower shops in cities with the highest qualifications and capabilities to satisfy the most discriminating customer. Most florists we affiliate with have been personally selected to serve on our "Preferred Florist" list that we refer to when sending orders that are not in our delivery area. You can rest assured when you place an order with Griffin's Floral Design; our 100% satisfaction guarantee is always included.
Our immediate service areas include: Columbus Oh, Pataskala Oh, Westerville Oh, Newark Oh, Dublin Oh, Reynoldsburg OH, Pickerington Oh, Lewis Center Oh, Galloway Oh, Upper Arlington Oh, Blacklick OH, New Albany Oh, Worthington Oh, Alexandria Oh, Johnstown Oh, Kirkersville Oh, Hilliard Oh, Grove City Oh, Groveport Oh, Canal Winchester Oh, Gahanna Oh, West Jefferson Oh, Grandview Heights Oh, Whitehall Oh, Bexley Oh, Heath Oh, Hebron Oh, Baltimore Oh, Obetz Oh, Brice Oh, Granville Oh, and Powell Oh.
Our immediate area hospitals include: Licking Memorial Hospital, Mount Carmel East Hospital, Mount Carmel West Hospital, St. Ann's Hospital, Riverside Methodist Hospital, Grant Medical Center, James Cancer Center, Ohio State Medical Center, Ohio State Medical Center East, New Albany Surgical Center
Our immediate area funeral homes include: Schoedinger Funeral Home, O.R. Woodyard Funeral Home, Kauber Fraley Funeral Home, Crouse-Kauber Fraley Funeral Home, Brucker-Kishler Funeral Home, Evans Funeral Home, Moreland Funeral Home, Hill Funeral Home, Dwayne Spence Funeral Home, Jerry Spears Funeral Home, Shaw Davis Funeral Home, Cotner Funeral Home, Pfiefer Funeral Home, Meyer Funeral Home, Reed Egan Funeral Home, Hederson-Van-Atta Funeral Home, Vensil-Orr Funeral Home, Hoskinson Funeral Home, Rutherford Funeral Home, Newcomer Funeral Home, Tidd Funeral Home